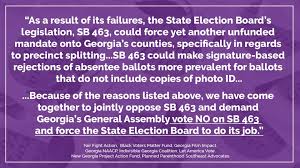 After Georgia's legislative leaders urged the public to stay away from the Statehouse due to COVID-19, they quickly passed the Secretary of State's anti-voting rights legislation, S.B. 463. In short, S.B. 463 removes the obligation for the State Elections Board to ensure the "legality and purity" of elections and removes their responsibility to ensure Georgia counties follow federal elections law.
It also could make signature-based rejections of absentee ballots more prevalent for ballots that do not include copies of photo ID, which could disproportionately affect voters without access to printers and/or scanners. Given global health concerns, the State should be removing barriers to absentee ballots, not adding them.
So at this point, the bill has passed the Senate, crossed over, and had its first reading on 3/13/20. At this point, assigned to House Committee – Governmental Affairs.
These are the members of this House Committee:
Governmental Affairs
Committee Members
Blackmon, Shaw
Chairman Jones, Todd
Vice Chairman Williamson, Bruce
Secretary Burnough, Rhonda
Member Collins, J
Member Fleming, Barry
Member Gravley, Micah
Member Gullett, Joseph
Member Lumsden, Eddie
Member Nguyen, Bee
Member Oliver, Mary Margaret
Member Powell, Alan
Member Shannon, Renitta
Member Taylor, Darlene K.
Member Trammell, Robert
Member Turner, Scot
Member Williams, Mary Frances
Member Williams, Rick
So our focus needs to turn to the House and contact these members of the committee to ask them to hold it in committee and not send to the floor for a vote.
FDW will be sending out a survey to track who has been called by our membership during the recess.