Peachtree City Mayor Fleisch shared this video statement to explain the government response and closings amidst growing concern about the spread of COVID-19.
Peachtree City Government now on top social media to keep community informed. Read the letter below from their website.
Dear Peachtree City Residents,
Thank you for your support and patience. As we continue to monitor the Covid-19 virus and its effects.
We would like to keep you updated with what Peachtree City is doing. As of now all City Buildings are still closed to the public. However, all the phones will still be open to help you with any concerns please call 770-487-7657.
• All City Building are still closed that includes the Tennis Center
• Please Enjoy all the Parks within Peachtree City
• Peachtree City Government now has an Instagram and Youtube page and you can always find us on facebook
Social Media Links:
Youtube
Falcon Field in Peachtree City closes their public buildings in response to an employee testing positive for COVID-19.
Airport still open and operating normally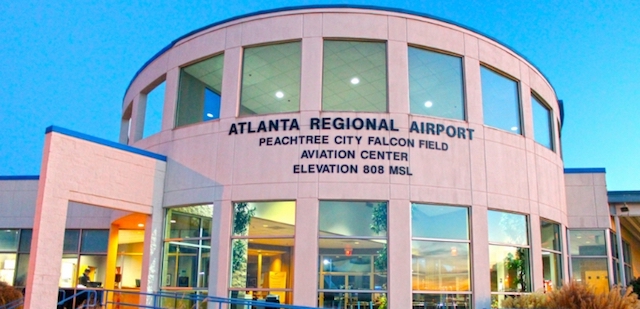 Atlanta Regional Airport – Falcon Field said Thursday that one of its employees was being tested for coronavirus after having symptoms "consistent with those of Covid-19," according to Hope Macaluso, airport manager.
However, "We are still providing all services, including fuel. We have only closed the main building to the general public. Airplanes can still land and take off as usual. In fact, we are experiencing a normal level of flights," she said.
What's closed to public access is what's known as the FBO building, the fixed-base operator, a commercial enterprise that provides aircraft fueling and other aviation services.
"After much consideration we have decided to close the FBO building until further notice," according to a news release emailed by the Peachtree City Airport Authority.
"This decision comes on the heels of the discovery of one our employees exhibiting symptoms that are consistent with those of COVID-19 and the employee is in the process of being tested. The employee has been in self-quarantine since Saturday and will remain until testing has been completed and health professionals have given him direction," the email said.
"We will still be providing ALL services. Please call the Front Desk with any requests: 770-487-2225," the Airport Authority news release said.