The Special Committee on Election Security this week revisited HB270 after minor revisions that still dramatically shorten the time within which Georgians can request an absentee ballot, and it doesn't have provisions for last minute emergencies. This bill has been flagged by numerous organizations as troublesome. Please contact your State Reps to vote NO on HB270.
GOP actions to restrict access to the ballot box are getting flagged as troublesome by National Media. The bills assigned to this committee can be found at this link (click here), under the "Assigned Legislation" section. It is important that we closely follow the actions of this committee and any attacks on our election systems. Please continue to email and call the legislators on the House Special Committee as well as the Senate Ethics Committee to let them know how you feel about the election bills. We will continue to work closely with House Democratic leadership to fight bills that seek to suppress the vote.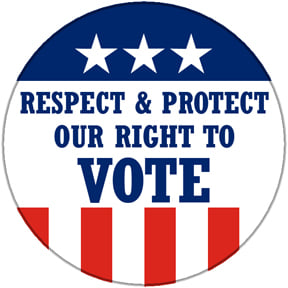 If these proposed voter suppression tactics were in place in the 2020-2021 general and runoff elections, at least 2,276,863 Georgians' votes would have been affected.
"Under the Georgia GOP's plan to dismantle our elections system, over 2.2 million Georgians' votes would have been affected, causing with hours-long lines during early vote, overwhelming elections offices, or even preventing voters from casting their ballots at all," said Maggie Chambers, spokeswoman for the Democratic Party of Georgia. "This bill is a direct attack on Georgia voters, especially the communities of color who are already more likely to face long lines and barriers to casting their ballot. Georgia Republicans are gutting voting access because they couldn't win when more Georgians voted."
Full article: https://www.georgiademocrat.org/new-fact-sheet-republicans-anti-voting-bill-would-have-affected-more-than-2-2-million-georgians-votes-in-2020-2021-elections/
Fayette Democratic Women's Political Action Committee has prepared a detailed article with links to current status on GA, the Federal Laws that are proposed in Washington, and actions you can take to protect ALL Americans' Rights to Vote. Voting is a RIGHT, not a privilege for a few.
Click here for all the details: https://mailchi.mp/223c060e01ad/call-to-action-fight-voter-suppression?e=5526f253e6