Women on the Square hosted by Fayette Democratic Women on Saturday, April 17, 2021.
Dozens of members and their guests came out to enjoy the spring weather and have an opportunity to see friends in person for the first time in many months of virtual calls and meetings. Kudos goes to Sheryl Corke and the Programs committee for planning and delivering on a great event. Brian Kilgor brought the music and joy to us all. Poets Rachel, Henry, and Taylor were inspiring and impactful, and our own La Chanze Roberts stole the show with her COVID poem. Henry's improptu original poem was born from the inspiration we gave HIM.
Ny Gentry handled the membership drawing with efficiency and humor. The three $50 gift card winners – Sandra Burton-Hughes, Adele Klingshirn, and Mary Gholson- will certainly enjoy their good fortune. We even gained new members.
Liz Maddox, our new Co-Chair, was great at the HOPE banner table. Chairs, Anne Hertzog with By-Laws and Stella Owens-Murrell with Political Action Committee, represented the work of our organization. Portia Shields, Sara Cookson, and Susan Sampson handled refreshments, tables and clean-up.
Three of our elected officials came out to support us: Georgia House Rep. Derrick Jackson, County Commissioner Charles Rousseau, School Board member Leonard Presberg, and City Councilman Daryl Langford. They all expressed appreciation for FDW's continuous support!
The EVA team informed voters about voter registration and answered questions about the new voter laws. Karen Rands helped spread the word. None of this would have happened without the leadership of Pearline Greene.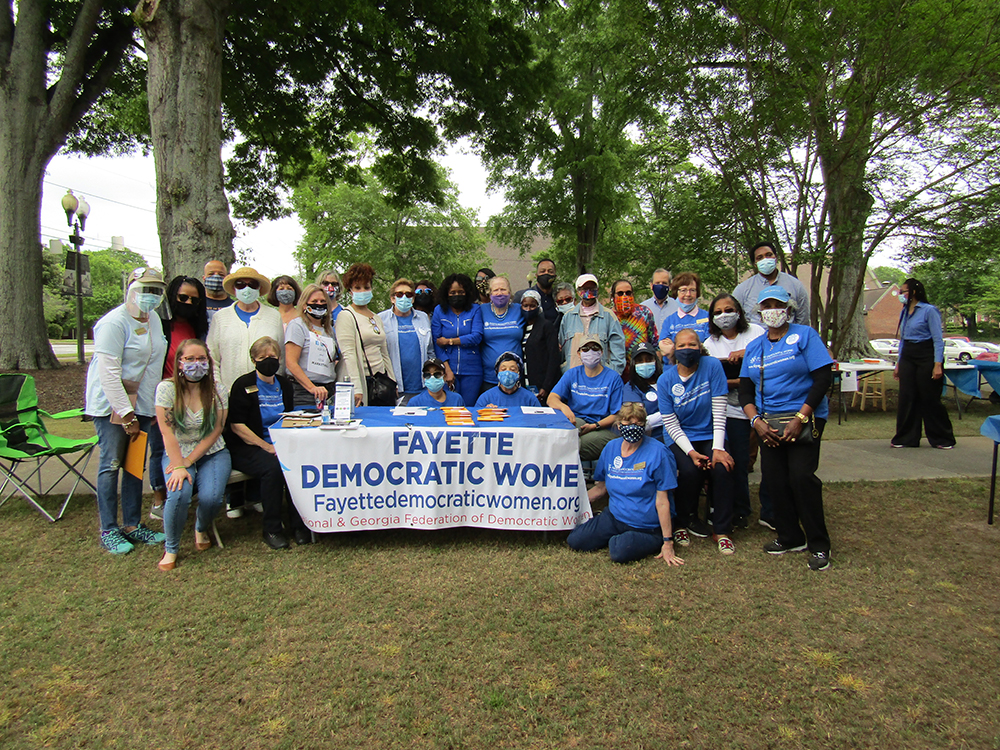 View the Live Stream Video:
---
JOIN US SATURDAY, APRIL 17th 1-3 pm
On Fayetteville's Historic Square
(this replaces our regular monthly meeting)
Social Distance, Masks, and BYO Drink & Food & Chair
Bring family & friends — spread the word!